New Bitdefender Client Security v3.5 released on March 15, 2011
Bitdefender Client Security is an easy to use business security and management solution, which delivers superior proactive protection from viruses, spyware, rootkits, spam, phishing and other malware. The centralized management ensures consistent security policies, website access and application controls, audits and other remote management scripts to further improve the productivity.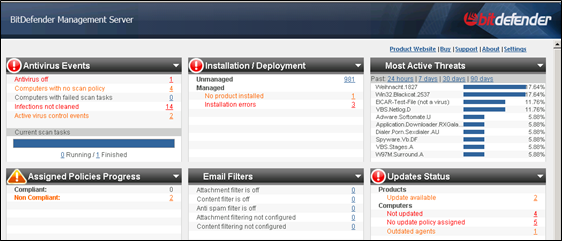 What's New in Centralized Management?
1.1   The Dashboard - The New Centralized Management Dashboard Now Includes:
a) New, improved design, with faster load/refresh

b) Drag-and-drop containers that provide more visible events ;
c) Total of 12 configurable sections (8 sections active as default);
d) The ability to monitor a number of currently running and finished scanning tasks with an overall    
status bar;
1.2 

 
Network Auditing and Reporting
-
New Wizard Driven Network Auditing and Reporting Includes:

 
a) Automatic network audits for inventory and change reporting;
 b) Provides visibility into the endpoints deployed within the network;
 c) Identify hardware/software that is out-of-spec/non-compliant to security policies;
 d) Ensure compliance with third party software licensing;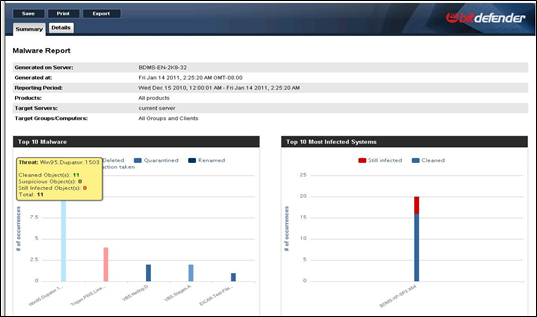 1.3   Reporting Engine - New Centralized Reporting Engine Now Includes:

 a) More relevant data, easier to use, with faster report generation;

 b) Drill down information on-screen ;
 c) Approximately 30 predefined reports ;

 d) All the reports have the option to Print, Save as HTML or Export to PDF ;
1.4   Wizard-Driven Management Tasks - New Wizard-driven Network Tasks (previously WMI Scripts):

 a) Wizard-Driven task creation with new filter feature ;
 b) Network Tasks with ~30 templates - no need programming skills ;

 c) Critical Network Tasks are predefined - simplifying the management process ;
1.5   Wizard-Driven Security Policies - New Intuitive Wizard-Driven Security Policy Creation:

 a) Simplifies the overall process of policy implementation;

 b) Step by Step, process driven creation ;

 c) Zero ramp up time for IT staff with little or no formal training ;
2.   What's New in Endpoint Protection?
2.1   Optimized Installation and Performance - New Optimized Performance on Bitdefender Business Clients:

 a) Reduced resource consumption by utilizing the latest Bitdefender Antispam engine - requires much less memory and processor resources ;

 b) Deactivating any Business Client module frees up memory ;

 c) Scan before install performs signature update before starting to scan ;

 d) Improved package distribution within the organization's network with unattended installation supporting configurable update path ;
2.2   3rd Layer of Detection: Active Virus Control (AVC) Technology - New Higher Detection Rate of New and Unknown Viruses

 a) 63.5% of malware samples not detected by Bitdefender scanning engine or by B-HAVE were detected by AVC ;
 b) Overcomes New Detection Avoidance Techniques ;Monitors Processes Continually, Not Only    When First Accessed or Started ;

 c) Identifies HIDS system level intrusion events ;
2.3   Bitdefender Antivirus for Mac with Centralized Reporting - New Bitdefender Antivirus for Mac with Centralized Reporting Capabilities:

 a) Mac's increasing market share in SMB and Enterprise networks ;
 b) Organizations can protect their Macs against viruses and phishing attempts ;
 c) Centralized reporting for malware alerts and update status ;

 d) Requires standalone installation and individual license keys ;
3.   What's New in Critical Servers and Gateway Services? - New Bitdefender Security for Windows Servers 3.5:

 a) Improved Centralized Management for all Bitdefender Server Security solutions;
 b) Scan before installation - all server solutions ;

 c) Contextual scan and quarantine re-scan on File Servers ;
 d) New Anti-spam engines and quarantine controls on Mail Servers & Exchange ;

 e) New inbound/outbound rules and optimized analysis on Mail Servers & Exchange ;
  f) Improved imports from Active Directory Groups ;
 g) Compatibility with Microsoft® Dynamics RMS/POS ;