The public cloud delivers flexible, self-managed, pay-as-you-go services perfect to expand your corporate datacenter, deliver your websites and web apps or increase your ability and speed in developing and delivering applications. But it's up to you to keep it safe.
Security in the Cloud is a joint effort: the cloud provider manages security of the cloud, while security in the cloud is the customer's responsibility. Bitdefender helps you be compliant in the shared responsibility model and build the trust of your customers.
Security for Amazon Web Services
 Security-as-a-Service for Amazon Web Services by Bitdefender is the security solution specifically designed for the Amazon cloud infrastructure and integrated with GZ Cloud Console. Bitdefender Security for Amazon Web Services is built for virtualization, offers flexible pricing and scales with your needs and business size for optimal return on investment.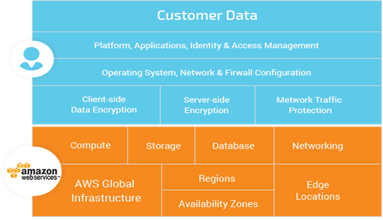 The added flexibility and agility of the cloud enables businesses to better deliver their products to customers and be more competitive in the market.
See our customers' experience with AWS implementation:

Dotter chooses Bitdefender to protect business on Amazon
Web Services (AWS)
View Case Study

Bitdefender Security-as-a-Service for AWS replaces
traditional security
View Case Study